Our contribution to climate action
"Sustainability is at the heart of the United Nations in Geneva. We have implemented measures to be more sustainable, resilient and cost-effective than ever before.

Among our many initiatives, lake water is used to cool the buildings of the Palais des Nations, solar panels have been installed on the roof, and steps have been taken to significantly reduce the consumption of paper and eliminate single-use plastics. We are also supporting our staff and visitors to make more sustainable lifestyle choices by installing more parking for bicycles and charging stations for electric cars.

Ensuring long-term sustainability of operations is also central to the Strategic Heritage Plan for the Palais des Nations.

Through innovation and cooperation, the United Nations in Geneva is committed to contributing to a greener United Nations, showing leadership in integrating the Sustainable Development Agenda in management planning and processes."

Tatiana Valovaya
Director-General of the United Nations Office at Geneva
Read more on the UNOG
website
.
SUSTAINABLE ENERGY AND BUILDINGS
Air conditioning from water from Lake Geneva
In 2009, UN Geneva buildings were connected to "Genève-Lac-Nations" (GLN). This project, developed by the "Services Industriels de Genève" (SIG), aims to use renewable energy, i.e. water from Lake Geneva, to cool the Palais des Nations and its conference rooms.
Solar energy
UN Geneva has installed 60 m2 of solar panels for the production of hot sanitary water in buildings A,B,C,D,K and S. With the support of Green Cross International, 20 solar lamps have been installed in the Ariana Park.
Energy-efficient Lighting
Energy-efficient Lighting and motion sensors have been installed throughout the Palais helping to contribute to a reduction in energy consumption.
Water efficiency
The replacement of pipes and flushing units, as well as double-flush toilet systems, has helped to reduce water consumption.
Natural gas
The Palais des Nations was kept warm in winter with heating oil. This energy source has been replaced with natural gas which has led to reductions in emissions of CO2. Between 2000 and 2016, the energy used for heating the Palais des Nations decreased by 36%, and the electricity used by 33%. This impressive reduction has been achieved through a combination of institutional measures, innovative partnerships with the Host Country and civil society, and a transformation of work processes. In 2008 for instance, the Palais des Nations changed its heating system from using fuel to natural gas − which emits less pollutants and CO2. In 2014 we installed 3223 square meters of photovoltaic solar panels as well as more than 1000 new windows, thanks to the support of Switzerland. An additional 460 square meters of solar panels were installed on the H-Building which was finished in 2021, totaling to 3683 square meters of solar panels.
UN Geneva has also partnered with the Services Industriels de Genève on the Genève-Lac-Nations project, which consists of cooling the Palais des Nations by using the water of Lake Geneva. For the renovation of the Palais des Nations, the goal of UN Geneva is to heat its premises using heat pumps. With this technology, 90% of the heat needed during winter will come from a renewable supply. It will also enable us to reduce carbon emissions by up to 2,000 TCO2eq per year.
Despite its best efforts, UN Geneva still generates greenhouse gas. These unavoidable emissions are however compensated by purchasing Certified Emission Reductions (CER), which helps developing countries use climate-friendly energy technologies. UN Geneva is thus climate-neutral since 2017.
WASTE MANAGEMENT
UN Geneva has also changed its consumption patterns. Since 2000, the Palais des Nations has reduced its water consumption by 66%. This has been achieved through changing the toilet flushes, by using sensor-activated taps and setting up an automatic system for the irrigation of the Ariana Park.
Finally, efforts are also made in waste management according to the "reduce, reuse, recycle" principles. A particular effort is currently made to find alternative solutions to single-use plastics.
Footprint and emissions by scope
This carbon footprint takes into account the reported emissions generated by the activities of the institution over one year and was established according to international standards by Climate Services. Mobility takes into consideration business travels and commuting (on a survey basis). The CO2 impact of food includes the catering of the institution and individual consumption (on a survey basis) during working hours. Nevertheless the collected data of the 2050Today members resulting in each carbon footprint are not yet fully standardized nor entirely complete. Data collection is being progressively harmonized and improved. Therefore direct comparisons between tCO2 / employee among institutions – be it in general or per sector – are not yet possible nor relevant.
According to ISO 14064, the distribution of emissions is done by scopes.
Scope 1 represents direct emissions linked to the consumption of fossil fuels.
Scope 2 represents indirect emissions from the generation of purchased electricity, steam, heating and cooling consumed by the reporting company
Scope 3 includes all other indirect emissions that occur in a company's value chain (i.e. purchased good or services, business travel, employee commuting).
UNOG specifics
Food : The UNOG cafeteria is open to all delegates. The CO2 emissions reported here refer to all clients and NOT ONLY UNOG.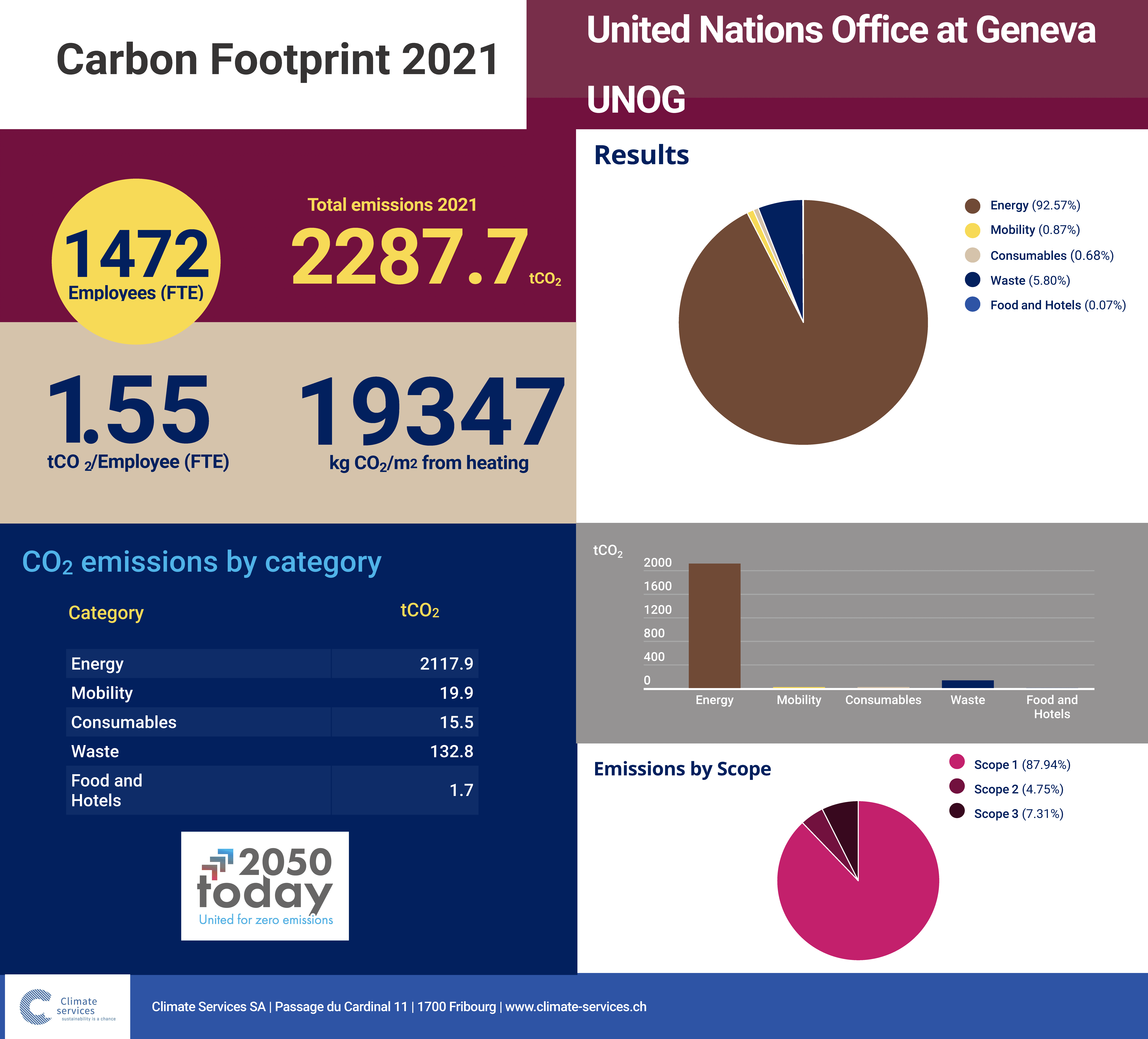 The weight of this CO2 footprint
If we were to give a concrete weight to this carbon footprint, it would represent the weight of the following number of elephants  :
(average weight per elephant : 5'000 kilos) 
The rate at which nature can absorb this amount of CO2
This amount of CO2 was emitted in one year. How many century-old cedars does it take to absorb this carbon footprint in the same amount of time ?
(a 100 year old cedar absorbs on average 25 kg of CO2 per year)
91 508 cedars are required